The Twin Towers were destroyed from the top down with advanced weaponry in a matter of seconds, and did not 'collapse' as was widely reported - a few small fires on a handful of the 110 floors could not destroy the towers in any event, never mind in seconds after an hour or so of localised fires.

Whilst all logical and rational thinking people unanimously agree that the video evidence proves that the towers were destroyed with weaponry, scientists still argue over the type of weaponry used. Common claims include the use of thermite, thermate and super-thermite, but not all agree, and such explosives do not explain the strange effects that occurred around the towers whilst they were being destroyed. The strange effects included: vehicles self-combusting within a ˝ mile radius of the towers with some 'melting'. Some were 'burning' amongst paper, which wasn't burning and the engines of others simply disintegrated, yet the dust cloud, which engulfed people that tried to outrun it wasn't hot. In fact, it was reported as being below ambient temperature hence no-one was burnt by the dust cloud, yet over 1,400 vehicles were destroyed. Oxygen tanks on fire trucks were also reported to have exploded. This phenomena cannot be ignored, so what caused it? The only scientist that has explained what can cause such effects is Dr. Judy Wood, and she puts it down to energy fields hence the terms 'burning' and 'melting' have been used tentatively. Dr. Wood believes that the 'fires' were actually 'cold' hence paper didn't burn around vehicles that appeared to be burning. This explains why vehicles that appeared to have burnt severely had unblemished seats etc. – only metal, and only certain metals at that were affected by the energy field. The effects witnessed have been carried out in a laboratory prior, so are known, and can be repeated. Amateur scientist, John Hutchison, is known for carrying out such experiments, interacting radio waves and magnetic fields, with the effect known as the Hutchison effect. Dr. Wood believes that the towers were subjected to such field effects on 9/11, causing them to demolecularize in a matter of seconds whilst causing weird effects to objects made of certain materials around the towers that fell within the field effect. We have a number of videos and pictures to show you, so let's start with a video of the North Tower exploding, which is narrated by physicist, David Chandler. He covers most of what we see occurring, but one thing to look out for is the difference that the field effect has on steel and aluminium. As the steel is being explosively ejected out of the building, you'll see it turning to dust hence there was barely any rubble pile. Each falling piece looks like a comet as it dissolves, but if you look up to the right, you'll see the smaller thinner aluminium cladding being ejected away from the building against the skyline, and you'll see that the aluminium does not dissolve so leaves no trail.



As we can see, the towers did not collapse, but were explosively destroyed. Whilst a pancake collapse is not what we see, Dr Wood calculates that a pancake collapse would have taken approximately 100 seconds. Also, a pancake collapse should leave the core columns intact, but these also fell victim to the field effect being imposed on them, and we can see the final parts turn to dust in these next two videos and the still shot series:







http://drjudywood.com/wtc/pics/Spire2m_ss.jp


It's unusual for so many people to jump out of a burning building as they did on 9/11, but Dr. Wood is not convinced that they did all jump, but were ejected out of the building. Dr. Wood also asserts that the behaviour of the bodies when hitting the ground is not consistent with how a body normally reacts with such a collision – broken bones and some dismemberment can be expected, but the bodies were, literally, exploding upon hitting the ground. Dr Wood asserts that bodies that had been exposed to an energy field would react in this way. One guy was found burnt to a crisp but wearing a coat that was still intact – evidence of being cooked from the inside out as if he'd been in a microwave oven. Dr. Wood also believes that many people were seen to take their clothes off at the windows because of the great 'heat' they were experiencing. Again, not normal behaviour from people trapped in an office fire, but the evidence suggests that they were not being subjected to heat or fires as we know them.

Aware of the evidence suggesting that energy fields were at play here, Dr Wood decided to check the readings of the magnetometers situated in Alaska, measuring/monitoring the Earth's magnetic field. Despite the magnetometers being 3,500 miles away, she found that, during the horrific events of 9/11, the Earth's magnetic field changed dramatically, returning to normal at the end of events, just after the 'collapse' of Building 7.  Here are the readings that she observed:



http://www.drjudywood.com/articles/erin/mpics/H3.jpg 

The energy fields referred to throughout this documentary can be recreated in a lab, and experiments carried out by John Hutchison usually involve the use of a coil, commonly known as a tesla coil, named after Nikola Tesla, who carried out similar experiments 100 years ago; but if the interaction of radio waves and a magnetic field destroyed the towers, where was the coil? Perhaps science has progressed, meaning that a coil is not necessary. However, Dr. Wood decided to observe the satellite imagery for the day of 9/11 to see the size of the dust cloud and check on its movement. Here's what she found: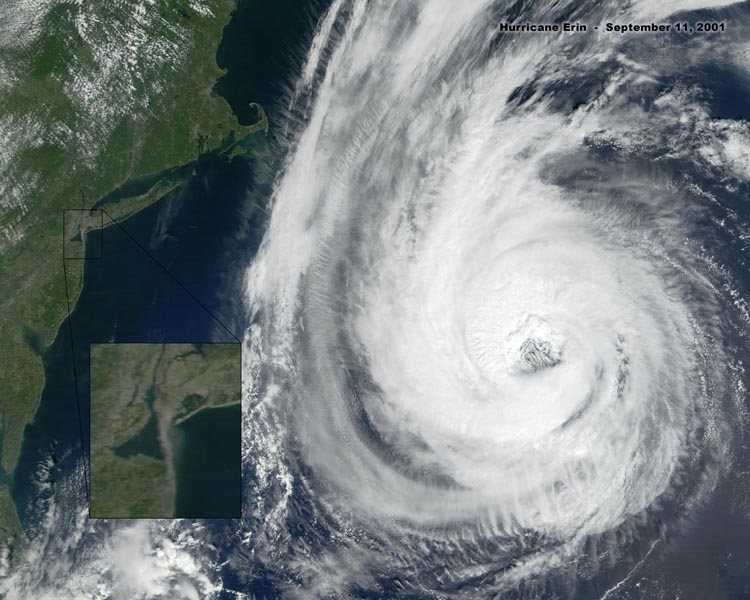 http://drjudywood.com/articles/erin/hpics/010911_1867_s.jpg

That's right, she witnessed a huge coil in the form of a hurricane (Erin), just to the East of Manhattan which was barely mentioned on the mainstream media weather forecasts (not at all by most), and not mentioned on the news at all, when normally an approaching hurricane is big news accompanied by warnings, but this was a secret hurricane or, at least, a hurricane that the authorities did not want attention brought to, for whatever reason.

Let's look at the path that Hurricane Erin took. You'll see that it had been taking a direct route towards New York for 4 days, being closest to New York on 9/11, before moving away to the East. We know that hurricanes create magnetic fields, but did this hurricane play a part in the destruction of the World Trade Centre? We let you decide.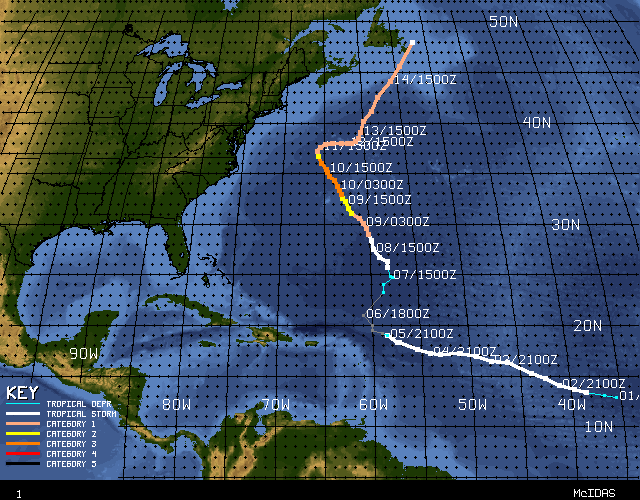 http://www.drjudywood.com/articles/erin/pics/erin_track_WI.gif

A detailed account of Dr. Wood's 9/11 scientific research can be found in her book 'Where Did The Towers Go?' available from:  www.Richplanet.net



Fine Documentaries Series MCB 2015